WHAT IS VALIDATE?
ValiDate is a visual novel about thirteen struggling singles navigating through soul-sucking 9-to-5s, quarter-life crises, and the harsh truths millennials learn as soon as they hit their 20's.Set in the Jercy City area, our cast of lovers trudge through the dregs of capitalism - a journey, a transition - a rite-of-passage that leads into uncertain mid-adulthood. On one side but not yet out on the other, 13 playable characters find romance amongst cosplay, trash mixtapes, and even poetry straight from the soul.With over 30 routes to choose from and hours of content, the lives of these singles are in your good (or bad!) decision-making hands.
Validate Game © 2022
HOME - CAST - CONTACT - PRESS KIT
VALIDATE: STRUGGLING SINGLES IN YOUR AREA
PRESS KIT
---
BLURB
ValiDate is a romantic visual novel about 13 adults in Jercy City navigating new relationships and the harsh realities that come alongside them.

---
DETAILS
Developer: Veritable Joy Studios
Platforms: Steam, Nintendo Switch, Xbox, Itch.io
Projected Release Date: September 29th, 2022
Website: validategame.com
Social Media: twitter.com/validategame
Contact: contact@veritablejoystudios.com
---
SYNOPSIS
Anywhere can be the city of love if you're willing to try hard enough, and some of these folks from Jercy City are desperate. ValiDate presents a smorgasbord of relationships to bear witness to— but the dating scene is difficult even when you aren't marginalized in six different ways, so happiness continues to fly just out of reach for these unlucky lovers.
---
FEATURES
- 13 playable characters with 30+ routes.
- The ability to choose horrible decisions and see the entertaining fallout.
- #OwnVoices narrative writing by an all people of color team.
- Original score by the Boy.
- Flawed characters undergoing narrative arcs handled with empathy and self-indulgence.
- Achievements for every single ending.
---
GRAPHIC ASSETS
---
SPRITES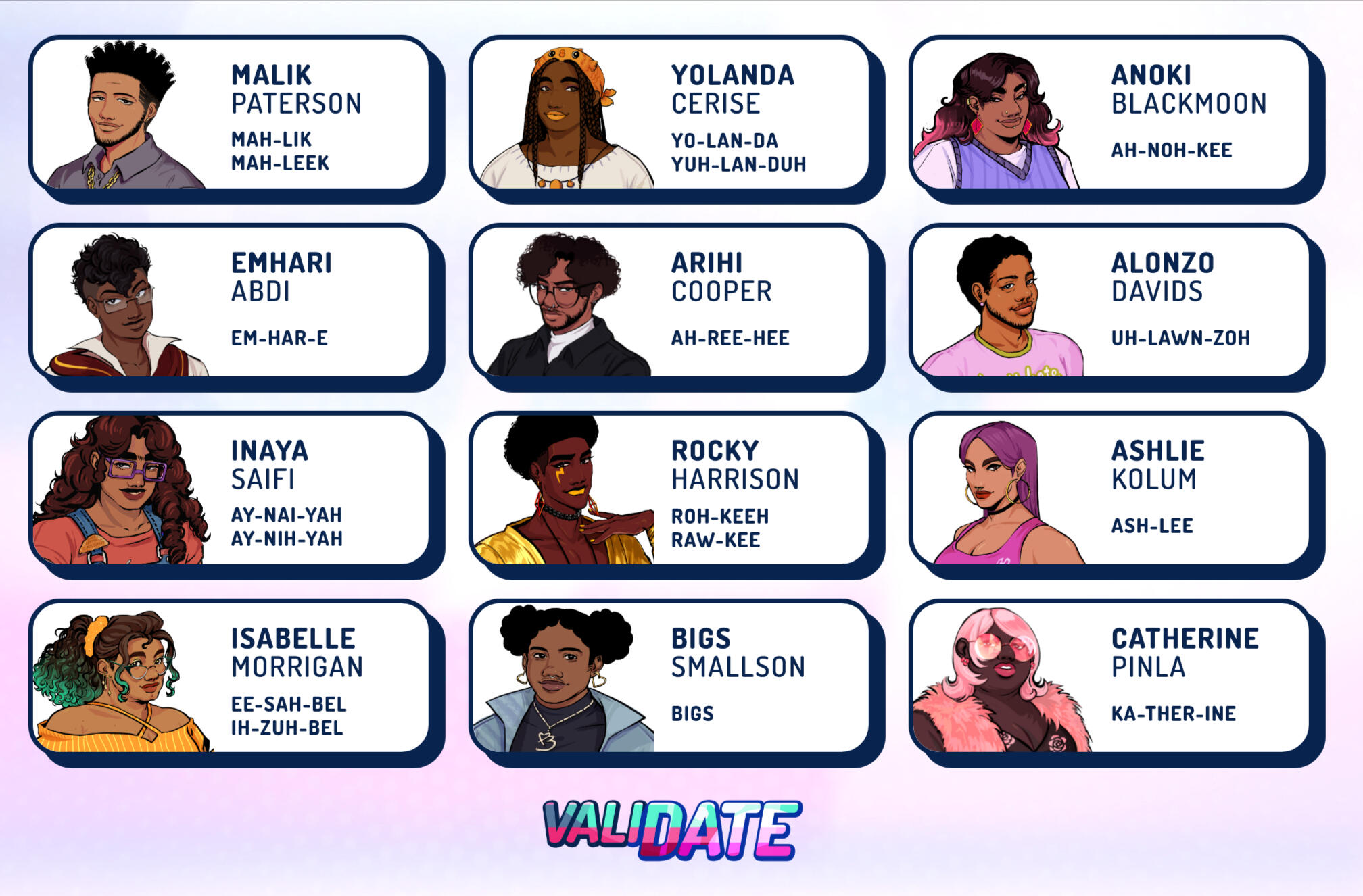 ---
VIDEOS
---
MONETIZATION PERMISSION
ValiDate Game allows for the contents of ValiDate: Struggling Singles in Your Area to be published through video broadcasting services for any commercial or non-commercial purposes. Monetization of videos created containing assets from ValiDate: Struggling Singles in Your Area is legally & explicitly allowed by ValiDate Game.
Validate Game © 2022