WHAT IS VALIDATE?
Set in the Jercy City area, ValiDate is a visual novel about 13 struggling singles navigating the harsh realities of love and life. Running the gamut from independent living, financial difficulties, and raising children on their own, our cast of 20-something millennials learn that growth does not end when a person comes of age and is only a precursor to quarter-life crises. Shenanigans ensue.Play as Malik, Inaya, Isabelle, and Emhari in Volume 1 of ValiDate as they enter the Jercy City's unpredictable dating scene, their stories told through over 30 routes and hours of gameplay based on your good (or bad!) choices. Enable their awful behavior and leave a trail of broken hearts behind them, or help them along the path of self-betterment with mixtapes, poetry, and cosplay thrown into the mix.
Validate Game © 2022
HOME - CAST - CONTACT - PRESS KIT
VALIDATE: STRUGGLING SINGLES IN YOUR AREA
PRESS KIT
---
BLURB
ValiDate is a romantic visual novel about 13 adults in Jercy City navigating new relationships and the harsh realities that come alongside them.

---
DETAILS
Developer: Veritable Joy Studios
Platforms: Steam, Nintendo Switch, Xbox, Itch.io
Projected Release Date: Out now!
Website: validategame.com
Social Media: twitter.com/validategame
Contact: contact@veritablejoystudios.com
---
SYNOPSIS
Anywhere can be the city of love if you're willing to try hard enough, and some of these folks from Jercy City are desperate. ValiDate presents a smorgasbord of relationships to bear witness to— but the dating scene is difficult even when you aren't marginalized in six different ways, so happiness continues to fly just out of reach for these unlucky lovers.
---
FEATURES
- 13 playable characters with 30+ routes.
- The ability to choose horrible decisions and see the entertaining fallout.
- #OwnVoices narrative writing by an all people of color team.
- Original score by the Boy.
- Flawed characters undergoing narrative arcs handled with empathy and self-indulgence.
- Achievements for every single ending.
AWARDS
Recipient of the Games Devs of Color 2021 Grant
---
GRAPHIC ASSETS
---
SPRITES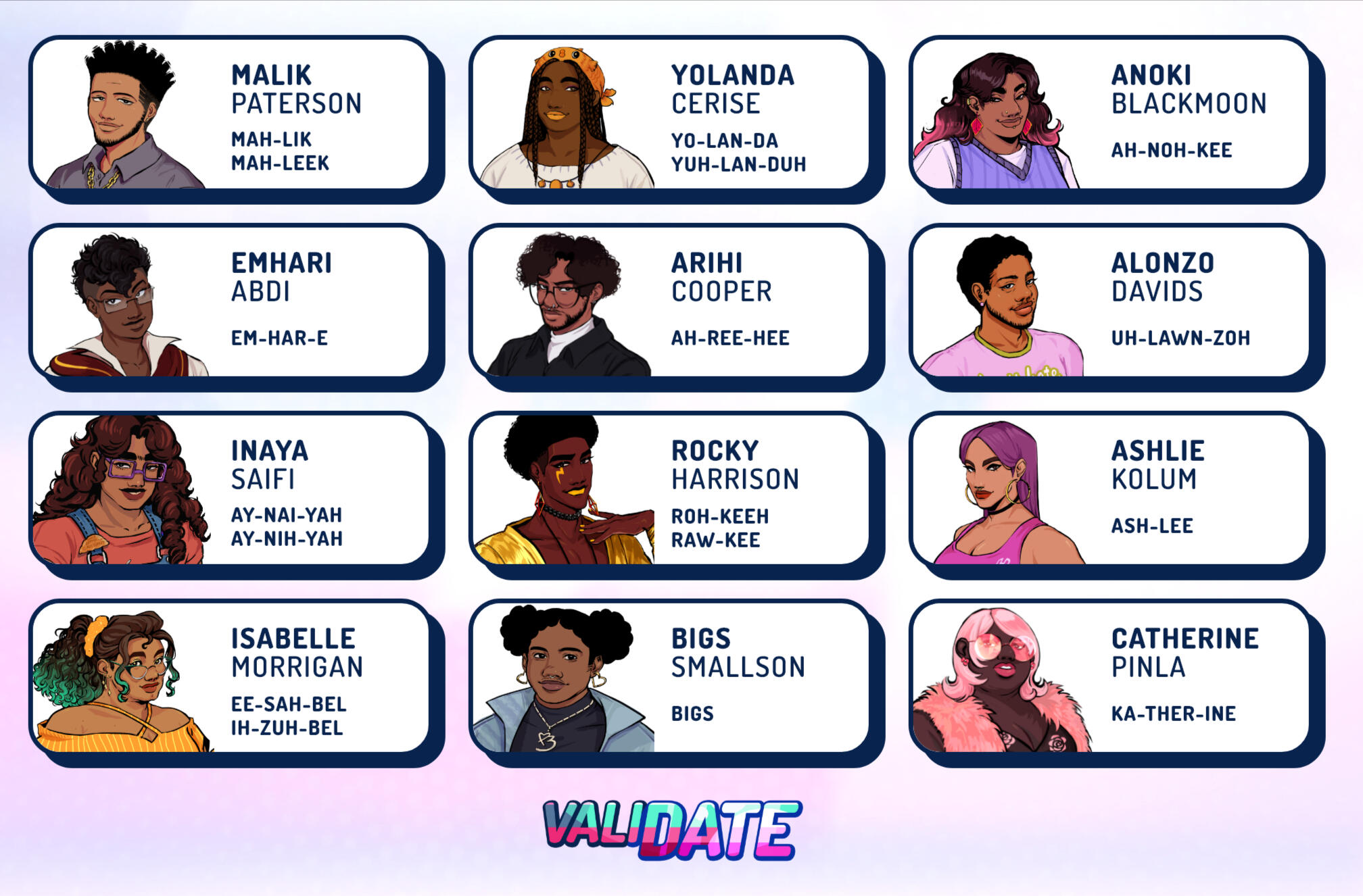 ---
VIDEOS
---
MONETIZATION PERMISSION
ValiDate Game allows for the contents of ValiDate: Struggling Singles in Your Area to be published through video broadcasting services for any commercial or non-commercial purposes. Monetization of videos created containing assets from ValiDate: Struggling Singles in Your Area is legally & explicitly allowed by ValiDate Game.
Validate Game © 2022